Bird watching in Rwanda – Guaranteed bird watching safaris in Rwanda
Bird watching in Rwanda – Rwanda is one of Africa's alluring birding destinations with a notable species of birds exceeding 700. Rwanda has a wide range of bird habitats that include, majorly, the Albertine Rift montane forests in the western region, and the grassland plains and swamps along the eastern border. There are also numerous swamps, rivers, wetlands, and lakes scattered through the grassy hills of the central region and across Rwanda, that harbor several bird species.
Acacia Bird watching safaris in Rwanda will take you to the country's most celebrated and prominent birding destinations which are protected areas of Akagera National Park, Nyungwe National Park and Volcanoes National Park. Just like all other African safaris, a birding safari will become more magical if one prepares for it earlier enough. To enjoy bird watching in Rwanda, you need to be prepared to stay out for long hours and have some considerable hiking is certain areas. For example, while on birding safaris in Nyungwe National Park and Volcanoes National Park, there is a considerable amount of hiking up and down the mountainous areas. Acacia safaris has well planned safari packages for you with everything necessary for making your birding adventure in Rwanda a success, already in place.
Birdlife in Rwanda
Rwanda's bird reputation is a notable feature of its diverse avifauna is the presence of 27 of the 37 forest and swamp-associated species regarded to be endemic to the eastern and western escarpments of the Albertine Rift. The Albertine endemic species can only be seen in parts of the DR Congo and one or two sites in Uganda. Outside of the Congo, Rwanda's Nyungwe National Park supports the world's greatest diversity of Albertine Rift Endemics.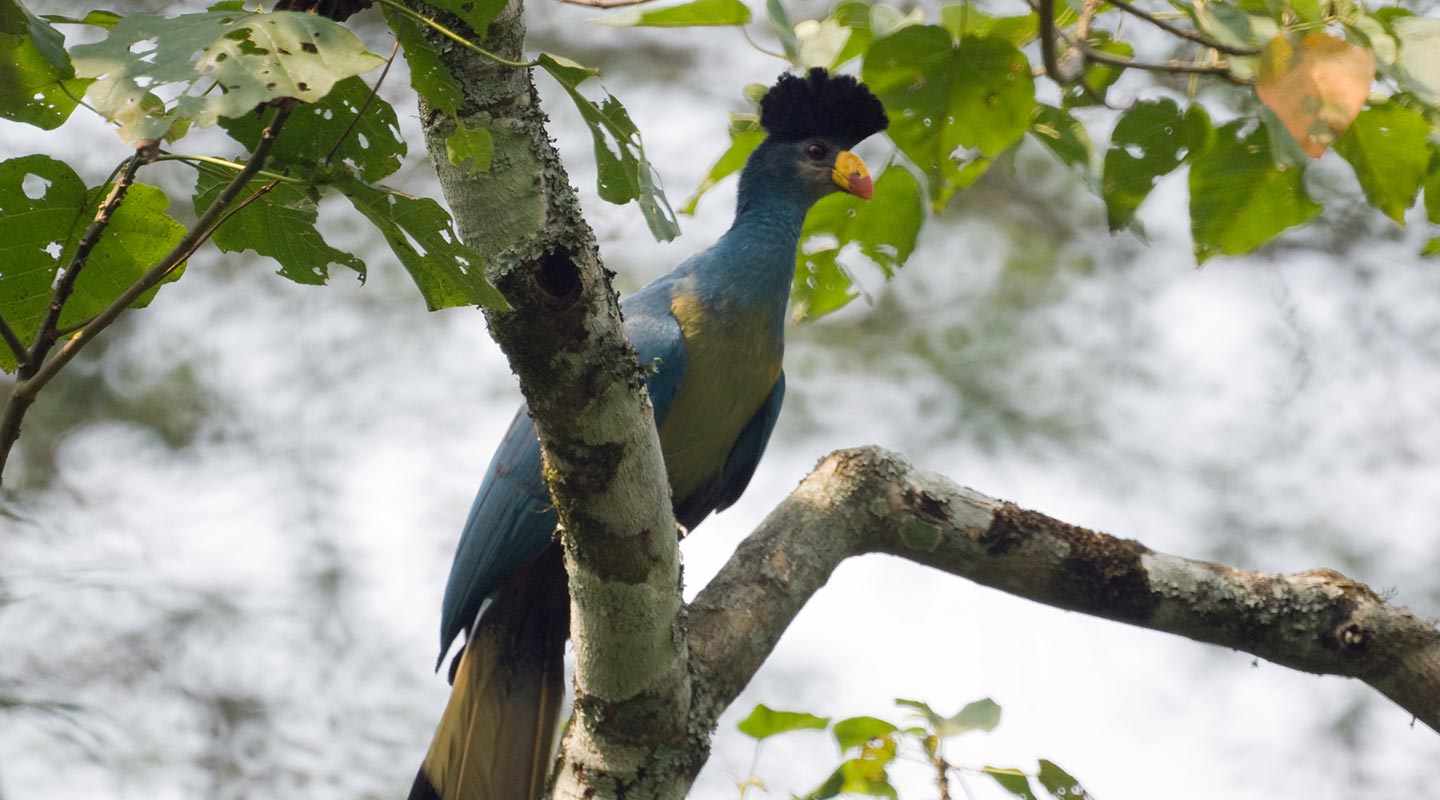 Some of the endemic species that can be seen here include; handsome francolin, Ruwenzori turaco, red-faced woodland warbler, collared apalis, mountain masked apalis, regal sunbird, blue-headed sunbird, purple-breasted sunbird, dusky crimsonwing and strange weaver. Recording around 310 species, Nyungwe is also a great destination for birding and when it comes to more widespread forest species (there's no better place, for instance, to see the astonishing great blue turaco) and it is well serviced by birding trails and knowledgeable local guides.
Top birding destinations in Rwanda – Where to go for birding safaris in Rwanda – Bird watching in Rwanda
Volcanoes National Park – birding safaris in Volcanoes
Siting high in the clouds, Volcanoes National Park protects Rwanda's part of the Virunga mountain range. The national park is famous for Mountain Gorillas however it also supports a reasonable number of birdlife species.  The National Park is home to about 165 bird species, 17 endemic to the area. It is must visit destination for birding to catch the rare species and also enjoy the breathtaking Virunga scenery and a chance to encounter the famous Mountain Gorillas.
The Albertine Eco-region
Stretching across the western half of Rwanda, the Albertine region is regarded as the center of the Afromontane habitat and is a belt of exceptional faunal and floral endemism including over 40 bird species, 34 mammals, 117 butterflies, 34 amphibians, and 16 reptiles. Rwanda has at least 27 Albertine Rift endemics. A visit here is therefore a must for any bird lover.
Akagera National Park – birding in Rwanda's Akagera National Park
Indulged in the north east of Rwanda, Akagera National Park is a breath taking birding destination. The National Park covers a chunk of savannah, that offer great wildlife sighting since most animals find them a perfect home. The National Park is a remarkable destination for bird watching in the country.
Over 525 bird species have been registered in the National Park. Some of the most sought after and most exciting to see in Akagera include; the Red-faced Barbet, Sousa's Shrike, White-collared Oliveback, Ruaha Chat.
Nyungwe National Park – Bird watching in Rwanda
Nyungwe National Park lies on the south-western slopes of the highland region that forms the great divide between the Congo and Nile drainage systems. The National Park is home to the region's largest montane rainforest with about 310 species of bird found here.
27 of the Albertine endemic bird species can be found in Nyungwe, and thus by far making it the most popular birding destination in Rwanda.
The most sought of here include; Regal Sunbird, Red-collared Babbler, Rwenzori Turaco, Handsome Spurfowl, Rwenzori Batis, Grauer's Swamp Warbler, Blue-headed Sunbird, Albertine Owlet. Acacia safaris Limited has well planned bird watching safari packages for you at affordable prices.
Related Uganda Searches
Popular Packages